AGAPE in Action- Fall 2023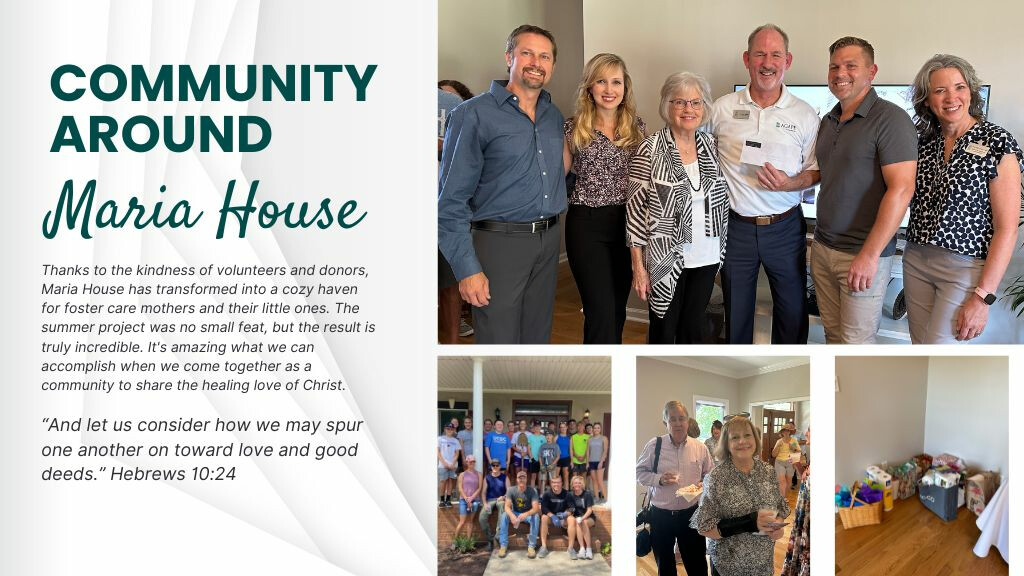 Like many of you, AGAPE staff and volunteers spent countless hours over the summer months on a home renovation project. Maria House, a spacious home in Clarksville, Tennessee, is the first AGAPE owned home designed to serve teen mothers in foster care and their babies. The impetus for the project came from an anonymous donor who saw the need to provide more robust support to teen mothers and trusted AGAPE to be a solution. With the full support of the Board of Directors, we closed on the home in April, and renovations started in May.

From the beginning, AGAPE volunteers Troy Allen and Chris Middleton were involved in the renovations, a big undertaking. They built a team of Clarksville area volunteers, churches, businesses, and other nonprofit organizations to rally around the Maria House project. In the words of one neighbor, "the house hasn't looked this good in 15 years! "
"This project became very personal. Everyone I shared the purpose of the house with said yes. Over and over, people said yes. God opened this opportunity for us to serve, to love, to share, to watch something grow, to plant something not just in this house but in us. As Christians, we are called to take care of the orphans and the widows, and this is a beautiful opportunity for us to do that. Thank you for allowing me to be involved" remarked Chris Middleton, youth minister at the Church of Christ at Trenton Crossing, and Maria House painter.
On Sunday, August 20, we hosted the Maria House Warming Party, welcoming friends and neighbors to see and bless the foster home where teen moms will be loved, served, and mentored. We were thrilled to host 80+ guests, including Clarksville Mayor Joe Pitts, Montgomery County Mayor Wes Golden, and Senator Bill Powers. Friends, neighbors and nonprofit organizations came bearing gifts, eager to see the home, learn more about the mission, and offer support.
We are currently awaiting DCS approval following a site visit, and we anticipate a full house by the end of the year. The home will accommodate up to three mothers and their babies.
We want to recognize these individuals and organizations for sharing resources with Maria House: